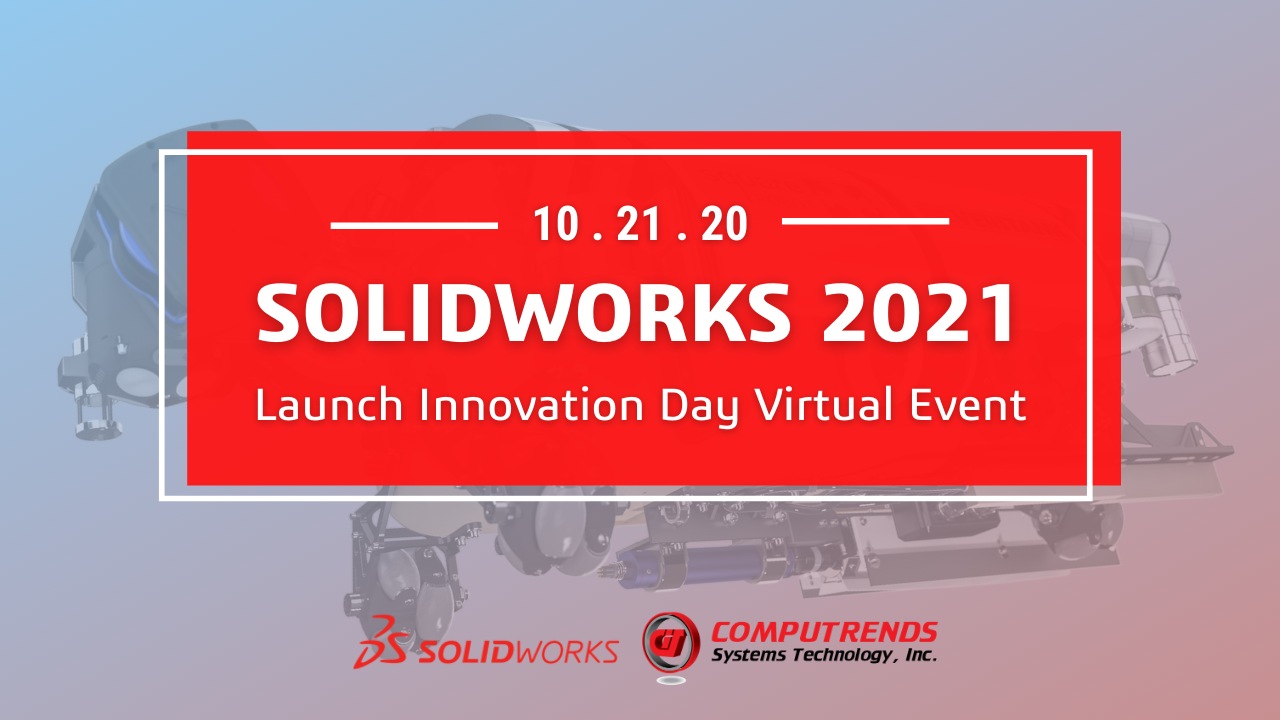 SOLIDWORKS 2021 LAUNCH INNOVATION DAY VIRTUAL EVENT
SAVE THE DATE: OCTOBER 21, 2020 | 10AM-3:30PM
We wouldn't want you to miss out our yearly SOLIDWORKS launch so we've prepared a virtual event for you to join, learn and have fun with from the comfort of your homes and offices. We will be showing you how SOLIDWORKS 2021 enhances the capabilities and workflows you use everyday for your design, documentation, data management, validation, and more. Together with 3DEXPERIENCE WORKS portfolio, you can expand these capabilities with your team to tackle more challenges and accelerate new innovations. Be among the first to see these features of SOLIDWORKS 2021 and 3DEXEPERIENCE WORKS when you join our live session on October 21, 2020 at 10AM. 
Agenda:
The Power of SOLIDWORKS 2021 and 3DEXPERIENCE WORKS by

Mr. Wayne Chua, Territory Sales Manager of ASEAN Customer Role Experience, Dassault Systèmes
The Perfect PC Workstation for SOLIDWORKS by

 Partner and Platinum Sponsor, Dell Philippines
Client Experiences and Insights by

Mr. Ronald Alan Cabangal, Branch Manager of Philippines EDS Techno-Service Inc.
Mr. Richard Figueroa, Chairperson of General Engineering, Holy Angel University
Mr. Roy Allen Bihag, Engineering Director of Northstar Technologies Industrial Corporation
Enhancements of SOLIDWORKS 2021 and 3DEXPERIENCE WORKS by

Computrends Technical Team 
Who should attend? 
Business Leaders
Engineering or Production Managers
Engineers or Designers
IT Personnel 
Professors and Students
We have also prepared mini games and big raffle prizes for you to enjoy. Once you register and join our SWID 2021, you will all automatically get a special participation token. What are you waiting for?
Register today: SWID 2021 Registration Form
For latest updates, follow our social media pages:
Facebook: https://www.facebook.com/Computrends/
LinkedIn: https://www.linkedin.com/company/computrends-systems-technology-inc
Youtube: https://www.youtube.com/channel/UCw4G0QBhrh8of4eKIKd3bgw