hyperMILL® is one of the world's most powerful CAM solutions for machine- and controller-independent programming. The system provides extremely innovative, flexible and powerful CAM strategies that allow manufacturers to achieve quality, time and cost targets much more quickly, even on challenging parts. Surfaces and edges are visibly smoother, cleaner and more precise. This is high-precision machining in a nutshell. Even hard-to-reach areas can be machined safely thanks to the reliable collision avoidance function. hyperMILL® gives users the security of knowing that they can manufacture new components quickly and flexibly.
7 Reasons Why You Should Get hyperMILL®
1. Future-proof Investment
hyperMILL® provides highly innovative and flexible CAM technologies that allow companies to maintain their competitiveness as well as constantly improve it. hyperMILL® gives you the security of knowing that you can also create new customer components flexibly in the future.
2. Top Performance
Noticeable improvements in programming and machining times thanks to efficient use of the available resources. OPEN MIND invests a lot so that customers use up less and less of their time.
3. Easy To Use
Simple and complex component projects can be programmed quickly, reliably and safely using the latest operating concepts. With hyperMILL®, everything is always easy for users to operate: from CAD data preparation to programming and simulation.
4. Efficient and Reliable Processes
Powerful machining strategies for 2.5D, 3D, HSC, mill turning and 5-axis applications offer the optimal solution for every machining situation. Intelligent mechanisms, informative simulations and perfect handling of possible collisions guarantee an extremely high degree of safety. Use hyperMILL® for the best machining results.
5. Optimized Workflow
hyperMILL® provides an extensive interface package for seamless continuity to other CAD systems. It is also possible to optimally integrate the CAM system into existing IT landscapes.
6. Superb Quality
Use hyperMILL® for the best machining results.
7. Everything Can Be Automated
hyperMILL® can be flexibly adapted and optimally extended at any time to suit specific customer requirements.
hyperMILL® for SOLIDWORKS
THE COMPLETE SYSTEM FOR EFFICIENT AND RELIABLE CAM PROGRAMMING
The SOLIDWORKS 3D CAD solution allows companies from all industries and with all areas of application to speed up their product development, reduce production costs and improve product quality. hyperMILL® integration means that SOLIDWORKS users can also use one of the most powerful CAM systems for machine- and controller-independent programming during manufacturing.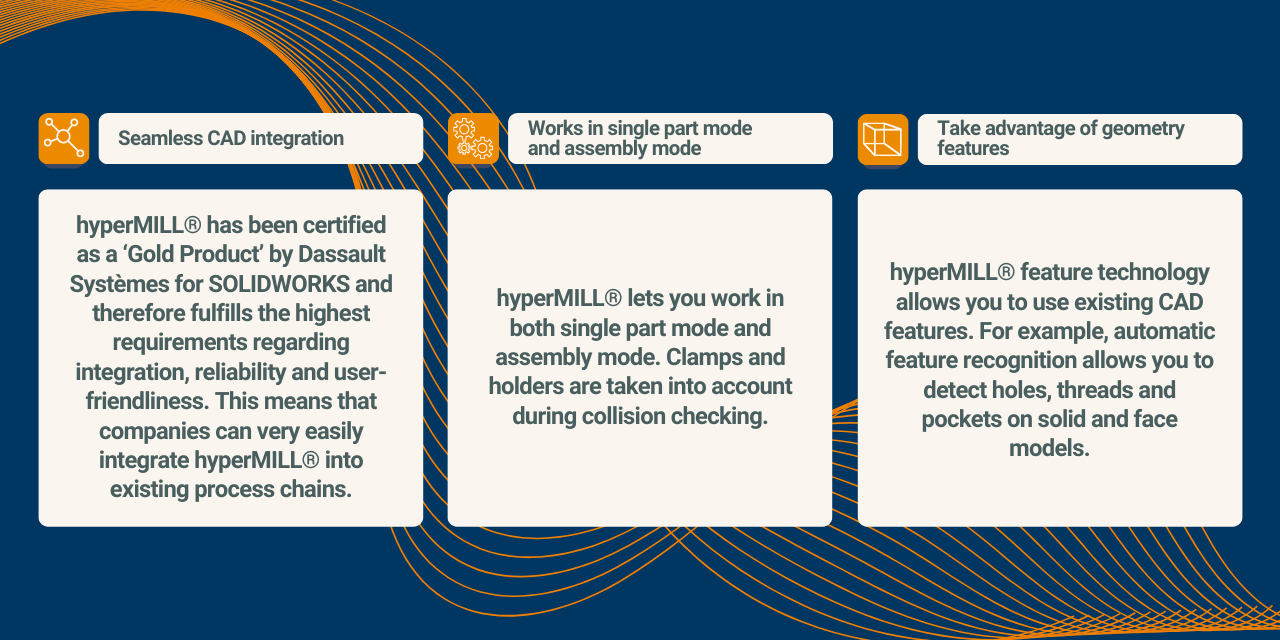 Get a Quote
Email: This email address is being protected from spambots. You need JavaScript enabled to view it.