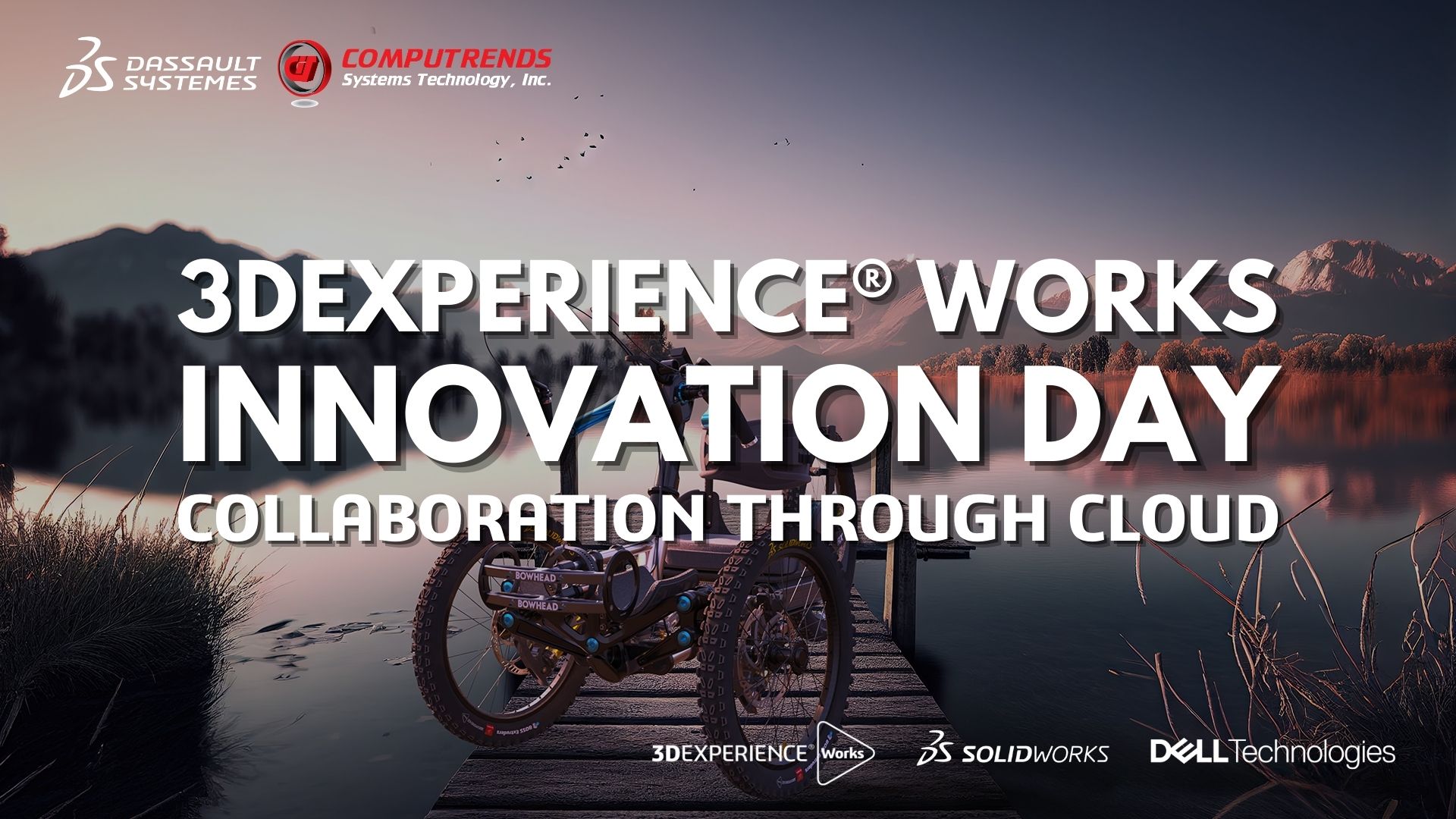 3DEXPERIENCE® Works Innovation Day: Collaboration Through Cloud

MANILA: October 18, 2023 | 9:00 AM to 4:00 PM | Marriott Hotel, Pasay City
CEBU: November 17, 2023 | 9:00 AM to 3:00 PM | Radisson Blu Hotel, Cebu City

SOLIDWORKS 2024 is coming soon! Hear expert advice, tips, and tricks from SOLIDWORKS pros and get hands-on with the latest user-generated enhancements in SOLIDWORKS 2024. 

Whether you want to work smarter by automating and shortening workflows, work faster with the performance and interface delighters, or work together across teams to get your products to market faster, SOLIDWORKS 2024 has everything you need to design better products and have more fun doing it. 

Discover how new capabilities in SOLIDWORKS 2024 can help you improve productivity:​​​​​​​
Work Smarter: Reduce your workload in SOLIDWORKS with the ability to defeature models more efficiently, add part features to assemblies by first associatively inserting an assembly into a part, and include the unit of measure as a custom property in your notes and tables.
Work Faster: Work more efficiently in SOLIDWORKS with intelligent and instant creation of sketch dimensions, improvements to collinear dimensioning for chain dimensions in drawings, and access to new components in Toolbox.
Work Together: SOLIDWORKS is better together with your colleagues! Empower others across product development disciplines with enhancements to SOLIDWORKS products including PDM, Simulation, Electrical, Visualize, MBD, Composer, and more.
But wait, there's more! SOLIDWORKS 2024 improves everyday file management and opens new opportunities for design, manufacturing, and simulation:
Focus on Design: Design and data are inseparable. The more design work you do, the more data management tasks come along with it. Storing files the old-fashioned way can be a significant barrier to process improvement and smooth collaboration. Cloud Services for SOLIDWORKS, now available to new purchases of SOLIDWORKS Desktop CAD, connects your data to the 3DEXPERIENCE platform. This connection enables you to focus on design by removing friction from the traditional design sharing and file management process. 
Expand Horizons: 3DEXPERIENCE Works enables you to expand your horizons beyond SOLIDWORKS CAD, with deeper and more connected solutions. From design to simulation, from governance to manufacturing, the broader portfolio of 3DEXPERIENCE Works roles will empower your entire product development organization. Don't miss this chance to learn how you can extend the value of your SOLIDWORKS design data with 3DEXPERIENCE Works. 

SAVE YOUR SPOT TODAY and get ready to: 
Test drive the latest SOLIDWORKS 2024 enhancements
See how you can easily share and markup parts, manage and control assemblies, and store and revise drawings directly from SOLIDWORKS
Explore new access to the secure, CAD-aware cloud data storage
Learn best practices from SOLIDWORKS experts and connect with peers in the SOLIDWORKS community
Discover other 2D to 3D design solutions, CAM softwares and Dell workstations
CEOs, Engineering Managers, Designers, Engineers, Sales and Marketers, Professors, and SOLIDWORKS Users are invited to join. This event is FREE but is limited to 2-3 persons per company or educational institution. Watch out for the raffle draw at the end and only attendees from morning until afternoon will have the chance to bring home the raffle prizes. Register now and see you there!
See last year's highlights at the 3DEXPERIENCE 2023 Launch: Expanding Horizons:
For latest updates, follow our social media pages: