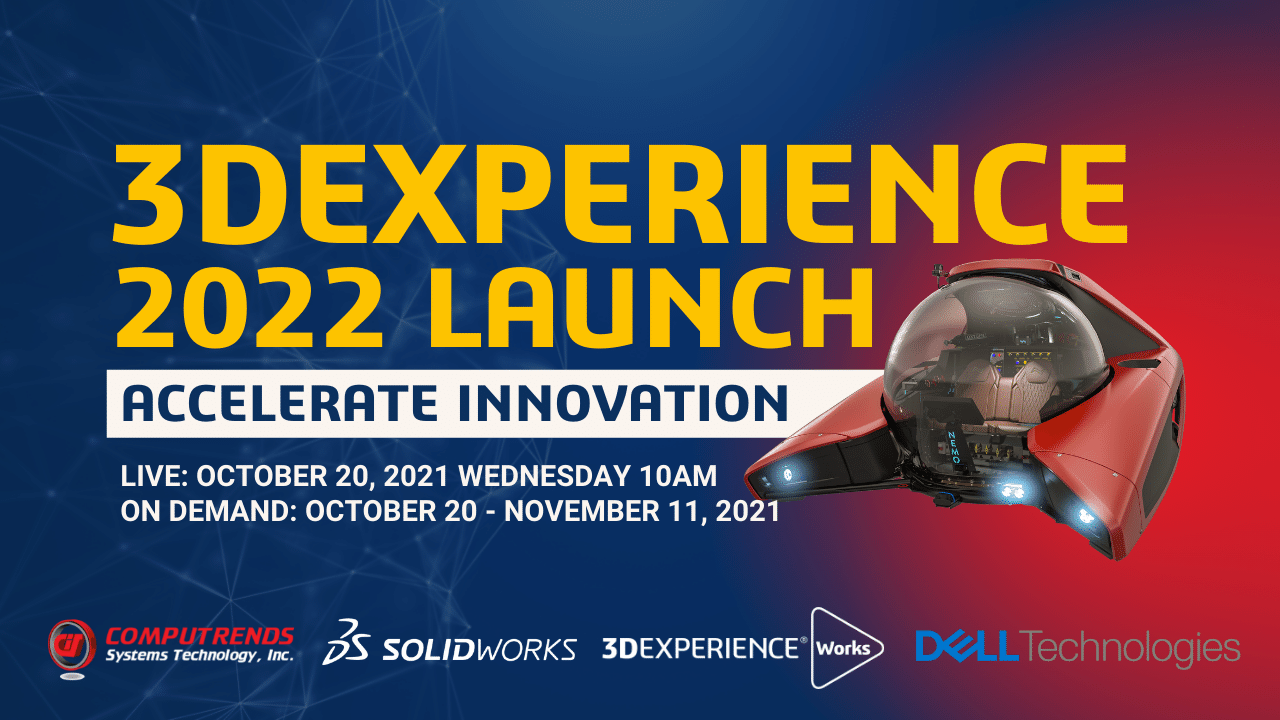 3DEXPERIENCE 2022 LAUNCH: ACCELERATE INNOVATION
SAVE THE DATE: OCTOBER 20, 2021 | 10AM-3PM
ON DEMAND: OCTOBER 20 - NOVEMBER 11, 2021
SOLIDWORKS 2022 provides the performance you need to get your work done faster. New enhancements to improve workflows you use daily for design, documentation, data management, and validation enable you to work smarter. Increase your competitive advantage by tapping into the power and breadth of the 3DEXPERIENCE Works portfolio to work together more efficiently.

The new release of SOLIDWORKS 2022, part of the 3DEXPERIENCE Works portfolio of design and collaboration solutions, will enable you to:

>> Work Faster: Create better products in fewer steps with new workflows and feature enhancements in assembly and part design, drawing detailing, simulation, and data management. Optimize assemblies automatically for top performance, eliminating the need to worry about settings.

>> Work Smarter: Get more done in less time with performance improvements when working with large assemblies, imported geometry, and your product data. Experience the freedom of our fastest graphics to date with improved display response and quality.

>> Work Together: Improve innovation and decision-making by connecting to the 3DEXPERIENCE platform and leveraging its collaborative capabilities.
With the same people who produced the yearly SOLIDWORKS Launch Innovation Day, Computrends Systems Technology Inc., together with Dassault Systèmes SOLIDWORKS Corporation, brings you a bigger and better all-virtual event this year with the 3DEXPERIENCE 2022 Launch: Accelerate Innovation. Enjoy a whole day event featuring a keynote speaker from SOLIDWORKS, guest speakers from the manufacturing and academe sectors, our partner and sponsor - Dell Technologies, exhibits from our partners and solutions, breakout sessions, raffles, and more.
What to expect?

>>  Learn more about enhancements and new workflows to improve productivity
>>  Test drive the expanded solutions that can shorten your time to market 
>>  Engage with experts and dive deeper into the new capabilities
>>  Exchange best practices with peers in the community
Who should attend? 
Business Leaders
Engineering or Production Managers
Engineers or Designers
IT Personnel 
Sales and Marketers
Manufacturers
Professors and Students
How to register?
Step 1: Click this link to input your details: https://register.eventx.io/1d22d85b-740a-4d78-aea2-a2a89216b841?
Step 2: Wait for a confirmation email. 
Step 3: Keep your eye out for your email for the event link to be sent out to you a day before the event.
Step 4: Follow our social media pages for announcements. 
Take advantage of SOLIDWORKS 2022 enhancements that will help streamline and accelerate your product development process from concept to manufacturing. Reserve your virtual seat this October 20, 2021 for our 3DEXPERIENCE 2022 Launch. Register now!
Thank you to our partner and sponsor, Dell Technologies.
For latest updates, follow our social media pages:
Facebook: https://www.facebook.com/Computrends/
LinkedIn: https://www.linkedin.com/company/computrends-systems-technology-inc
Youtube: https://www.youtube.com/channel/UCw4G0QBhrh8of4eKIKd3bgw