Computrends Systems Technology Inc. held another successful SOLIDWORKS Model Mania Contest, this time at PDMEX last Aug 23-26,2017. It was a chance for SOLIDWORKS users, both Professionals and students, to showcase their skills in using SOLIDWORKS.
What is SOLIDWORKS Model Mania Contest? It is a contest in which you will need to create a part in SOLIDWORKS from a 2D drawing that we provided. You will be judged based on your accuracy and how fast you have created the part. 10 minutes is given to each participant to create the part accurately and efficiently.
The 2D drawing that was provided to the participants is in the picture below.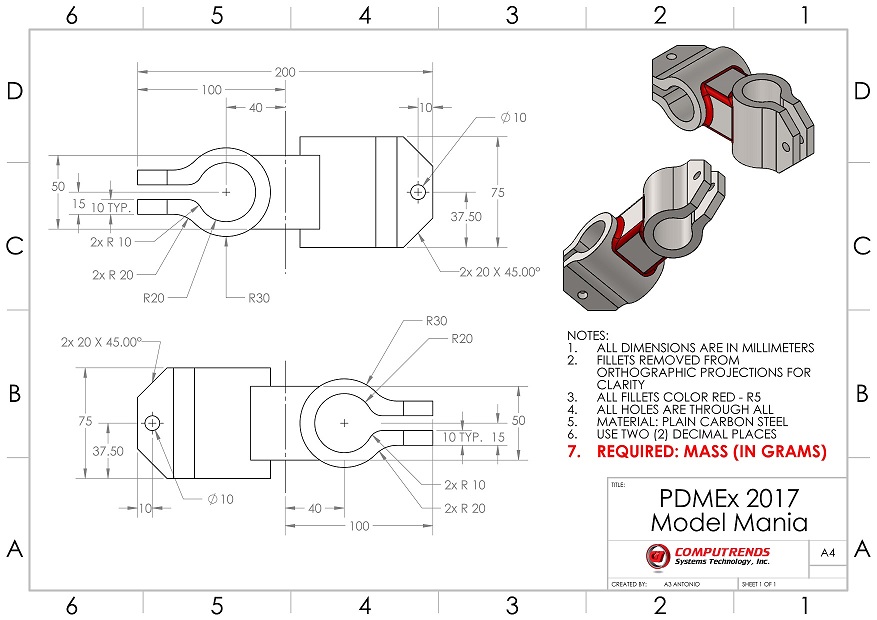 .....And this is how our Application Engineer did the part.
Correct Answer: 2874.39 grams
We hope that you have learn some tips and tricks from our video and boost up your skills by using more of SOLIDWORKS!!!
Learn more on how Computrends and SOLIDWORKS can help you in your Design Process by attending our SOLIDWORKS 2018 Launch Innovation Day on Oct. 11, 2017 at Dusit Thani Hotel Makati. The event is Free for all Professionals and Professors! You can register here: https://goo.gl/forms/iuZ1sAbtslJzeus93 !